Lead by the Blind
admin
The standard android ring tone ubiquitously rang in the classroom. "Hello?" The voice on the other end was President of The Houston Chess Club, Leon Fusselman. "Hey can you get a few of your critters together (The Knights) GM Timur Gareev wants to play them in a blind fold exhibition and lecture?" Even though it was a Tuesday "Knight" a school day, one does not pass up an opportunity like this.
What would you do if you received a call from say, the president of the NBA, National Basketball Association and he said the LeBron James is going to be in town for a couple of days and wants to shoot a few hoops and talk to your players. Even though it's in the middle of the week without hesitation you round up all the team players you can and no matter where on Terra-fir-ma it is, you lace up your sneakers and show up.
When one thinks of the blind the names like Ray Charles, Helen Keller and Stevie Wonder come to mind. To anyone in the chess world, there is only one, Grand Master Timur Gareev. Timur to the Dark Knight and friends, is hands down the only thing that comes to mind when blind chess is mentioned. With 10 of the best scholastic chess players in the area facing GM Gareev down, while looking at their boards, he corrects one player on board #7 and says in that heavy accent, "No, your Rook h4 move is incorrect. Your last move was Rook b3." After looking at the notation kept by the Houston Chess Club President, GM Gareev was absolutely correct. The kid had moved the wrong Rook on the previous move, 9 boards away!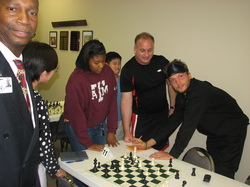 Now training for the historic and ground breaking $1 Millionaire Open in Vegas, Grand Master Gareev is also set to break the record of 64 opponents all while blind folded. Who does that? Who has a memory like that? Grand Master Timur Gareev, that's who.